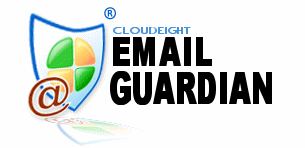 Cloudeight Email Backup Guardian Support & Comments
Please make sure you select the correct subject for your submission. Feedback concerning
problems receive priority. Make sure that the email address is valid and that your ISP
does not use email filtering software, otherwise we will not be able to reach you.
NOTE: Email Guardian will not work with Windows Mail, which is the email program that comes with Windows Vista.
Email Guardian is exclusively for use with Outlook Express.